Invisalign® Braces in the Upper West Side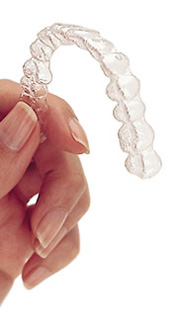 Why Choose Central Park West Dental for your Invisalign Treatment:
At Central Park West Dental, Drs. Vogel and Alster have completed an extensive amount of Invisalign cases varying from mild to severe, with very successful outcomes. They are "preferred" Invisalign providers and have taken numerous continuing education courses to help you achieve the best possible smile and optimal oral health!
Your Initial Visit
Your initial visit with Dr. Vogel or Dr. Alster would be a brief consultation to determine if you are a candidate for Invisalign.
Starting Your Invisalign Treatment Plan
Once we determine that Invisalign is the correct course of treatment for you, we will have you schedule your next appointment to make digital impressions of your upper and lower teeth as well as digital X-rays and photos. This process can take up to an hour. After your appointment we send your records to Invisalign to create your aligners. You can expect your first set aligners in approximately two weeks.
Once Your First Set Of Aligners Have Arrived
Once your aligners have arrived to our practice, we will call you to schedule your next appointment for your aligner fitting. This appointment may take up to one hour, depending on any adjustments we need to make. During this appointment you will receive additional sets of aligners that you will replace every 10 days to two weeks.
Follow-Up Appointments
We request to see you once every four to six weeks for follow-up appointments to evaluate your progress, and deliver your next sets of aligners. You can expect the follow up visits to last between 15-20 minutes depending on any adjustments we need to make.
Number Of Visits
The number of visits required will vary depending on the length of treatment required.
Invisalign Cost
The cost for Invisalign can vary from patient to patient depending on the length of treatment required. Patients typically require records, including digital X-rays and photos, and impressions of their teeth to determine the course of treatment. Financial arrangements, including payment plans, can be discussed prior to beginning treatment.
Invisalign Patient Cases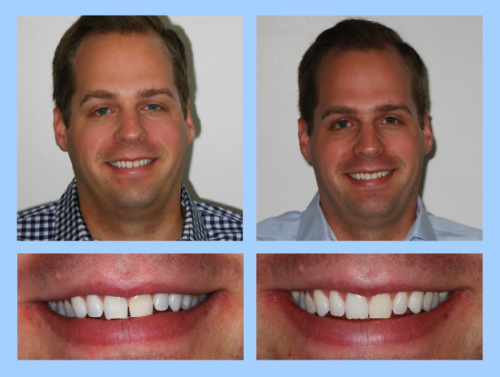 Click here to see our full Smile Gallery
Patient History
Chris is a relatively new patient from the Upper West Side and has always considered improving the appearance and alignment of his teeth. He had some spacing along his upper teeth and some crowding and rotation of the lower teeth. He also felt his upper teeth were tipping inward.
Invisalign Treatment
We discussed different options and ultimately decided to proceed with Invisalign treatment. Chris liked that there would be no preparation (physical modification) of his teeth and that the aligners were clear and basically "invisible" compared to traditional braces. The treatment consisted of a series of aligners that would be changed every two weeks until the final result was achieved. Chris was very impressed with the results over the course of treatment and was a big advocate of the technology.